When Wood Floors Go Bad....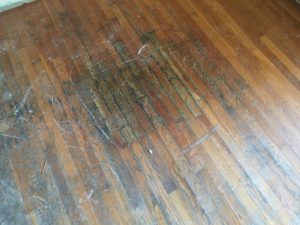 People around the world love the natural beauty of wood floors. In fact, according to a recent survey in Hardwood Floors Magazine, two thirds of homeowners in the US say that they would have wood floors in their dream home. But when wood floors become worn and lose their luster, they can become an eyesore, making the house less attractive and decreasing the value.
If the floors are not properly maintained, the old finish can wear down to bare wood, especially in high traffic areas such as hallways and in front of furniture. Even if the floor is well-maintained, some types of polyurethane fade and turn yellow with time, which dulls the natural grain and color of the beautiful wood underneath. To maintain the integrity of wood flooring and the value of the home, it may be necessary to refinish the wood.
At New Hampshire Wood Flooring LLC, we love bringing new life to a space by sanding down old worn wood flooring and bringing it back to life with a fresh layer of finish.
Sanding:
The process begins with our sanding machines. We use some of the latest low-dust sanding technologies, resulting in a healthier environment for our clients, their families, and our crews. Using these machines, our professionals remove the current finish, as well as dirt that has penetrated through to the wood, and flatten the floor. Once this is completed and the floor is smoothed out, it is ready for new finish.
Our flooring professionals are all trained thoroughly. We take our time to sand properly, avoiding any deep gouges, scratches, and marks that may still be seen even after finish is applied.
Why Seal?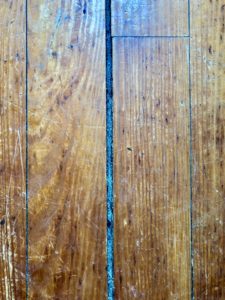 When applicable to the finish being used, New Hampshire Wood Flooring applies a sealer as the first coat. Many contractors skip the sealer coat in order to save time or because they are unaware of it. However, there are significant benefits to applying it first.
What is sealer?
Sealer is a unique product that penetrates and fills the pores in the wood, giving a more stable surface for the finish to cure upon. This allows for a more durable build-up of the finish on top of the wood, resulting in a stronger floor.
Unsealed wood floors can also experience panelization, also known as side-bonding. Certain finishes applied without a sealer can act as an adhesive, "gluing" floor boards together. After a few New England winters, and the natural expansion and contraction cycle that a wood floor experiences, some of these boards stick together while only a few are able to separate. Instead of having normal small and consistent gaps across the floor, there are fewer large gaps. Aside from being unattractive, these gaps can gather dirt and moisture, potentially causing damage over time.
When it is applicable to the finish being used, New Hampshire Wood Flooring applies a sealer to avoid these issues. Once the floor is sealed, it is time to apply finish.
Finish Options: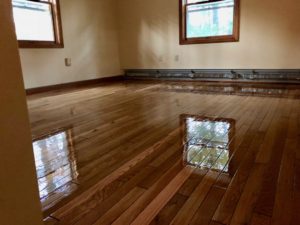 When it comes to selecting a finish, there are many options to choose from. There are a lot of factors to consider besides just how you want your floors to look in order to select a product that will hold up to your lifestyle and expectations.
New Hampshire Wood Flooring is here to help. We partner with our clients to help guide them to a finish, sheen, and color that is both beautiful and functional. By the time we are finished, we want your floors to be a joy for you to both look at and walk on.
We stock a variety of brands, sheens, and types of finish. We also consult with clients when a specific product is requested. Contact us if you'd like to know more about a specific finish you are considering for your home.
Types of finishes we stock:
Waterborne

One component
Two Component

Oil-Modified Polyurethane
Oil
Maintenance Coats
At times, it may be possible to re-coat a floor without sanding to raw wood it if the existing finish is in good condition and isn't worn through in any spots. We stock specialized products that bond with most finishes, including prefinished wood, and allow us to add a coat over the top. However, if the floor was not properly maintained or is damaged, a complete sand and refinish may be necessary.
Replacement
Over many years of use and after multiple refinish jobs have been done to the same floor, the top layer of the boards known as the wear layer might become too thin to sand and refinish again. In this case, we offer a variety of replacement options. Visit our Installation Page to learn more, or Contact Us.