Repair: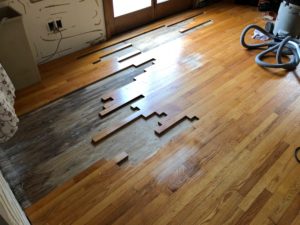 At times, damage occurs to one spot on a wood floor. Scratches, dents, and gouges are common accidents, and in most cases are easily repaired by sanding and finishing only affected boards or spots.
Pet and Water Stains:
We speak to many potential clients who have spot damage due to water stains, pet stains, and other types of damage effecting a small area of their wood floor. Many homeowners try DIY remedies, such as peroxide and bleach. However, in these situations, replacing the affected wood is often the only way to completely remove visible damage to the floor, restoring the floor back to its original beauty.
We start by spot testing shallow stains to see if they can be removed by sanding. In many cases stains can not be removed and the effected floor boards must be replaced. Our specialists then cut out and remove damaged boards. We feather in new wood, recreating an offset seam pattern. Once all damaged wood is removed, new wood is patched in and nailed down.
Because of our background in the flooring industry, we are usually able to order flooring that is a very close match to the existing wood. Our wide network of suppliers and mills enables us to find a good match to the size, species, and patina.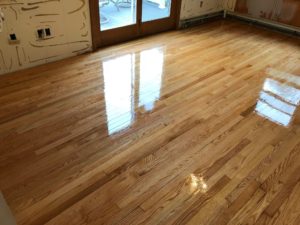 It is possible to finish only the affected area, however in many cases it is necessary to refinish the entire wood surface to ensure the best possible match between the new and existing wood. Color matching with stains and tinted finishes is one option to make the new wood match the aged, however this can create differences down the road when the stained wood becomes darkened by sun and age. If left untreated by color, the new boards will likely match eventually with exposure to the sun and other natural aging processes.
The only way to ensure the damaged floor will look like new again with no noticeable differences in color and patina is to completely remove and replace all wood in the space. Wood is a living organism, so variations will always occur in wood from two different trees, even within the same species. However, the next best option to replacement is repair, and in most cases is a suitable option.