Why install wood?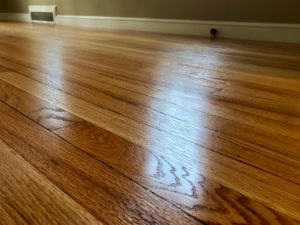 Wood flooring makes a home more beautiful. The allure of the grain and the strength in a wood surface creates a natural space that cannot be matched by carpet or laminate in attractiveness and comfort. According to a recent survey in Hardwood Floors Magazine, two thirds of homeowners in the US say that they would have wood floors in their dream home.
Many of our clients upgrading to wood flooring are in the process of selling or flipping their home. That is because installing new wood or refinishing existing wood flooring is one of the least expensive ways to add value to a home. Homes with wood flooring are typically more desirable to buyers in the real estate market, and therefore attract more attention and better offers.
Wood flooring is also much easier to clean than other types of flooring. Carpet must be vacuumed and washed repeatedly in order to maintain it properly, and is easily stained. On the other hand, a quick daily sweep is the best way to clean wood flooring. With no deep fibers to scrub or wash, wood only requires an occasional wash with a product specific to the type of finish, and is very resistant to stains if the finish is of good quality and in good condition. It is hypoallergenic, and doesn't trap dust, dirt, pet hair, mites, and other allergens. For this reason, wood contributes to improved air quality and better health for the families walking on it.
Wood is also a naturally durable product. When properly maintained, it can look like-new for years, and last generations. Although the initial investment is more than carpet and laminate, it can long outlive these inferior products.
While other types of flooring are manufactured with plastics and other chemicals, wood is sustainable and renewable, and is a greener choice that is better for the environment. In addition, carpeting may need to be completely removed and replaced multiple times before a wood floor ever needs to be refinished.
We believe wood is not only beautiful, but also a practical choice. If you are interesting in learning more about upgrading to wood flooring, Contact Us to discuss your vision for your home. We would be happy to answer your questions and discuss your options.
If you have an existing wood floor that needs a little TLC, learn more about our refinishing services or our repair services.
Options for installation: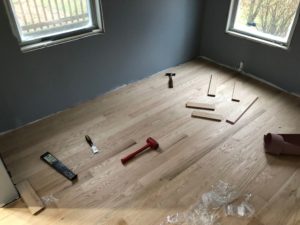 New Hampshire Wood Flooring offers many installation options, including nail and staple-down as well as glue-down installations for solid and engineered wood.
We begin by testing the moisture content in the air and in the subfloor or slab to determine what the natural conditions of the space are and what moisture barrier or underlayment is necessary.
Once this is completed, we can install the wood. There are many choices available to homeowners when it comes to selecting the type of wood. We offer a wide variety of species and widths than can match most preferences and budgets. Our knowledge and history in the flooring industry enables us to work with our clients to help them create the look they are envisioning.
We can install prefinished wood as well as raw wood to be site finished. Prefinished wood is a great option for homeowners with a tighter budget, however many would agree that raw, site finished wood is a more beautiful and customizable option. Whichever our client decides, New Hampshire Wood Flooring is here to help.